Model 4" MBF Internal
Model 4" MBF is designed for economical high-integrity, compact, self-contained dual-pressure relieving devices to meet the objectives of the Clean Air Act. This law requires that there be a significant reduction of volatile hazardous and air pollutants.
The BPS refrigerant containment unit utilizes a non-fragmenting rupture disk as a primary relieving device which isolates and provides a zero-leakage barrier for a BPS Model 4" MBF relief valve, which functions as a secondary pressure relieving device.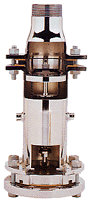 Should an overpressure condition develop, the rupture disk bursts at a predetermined set pressure; this allows the pressure to be relieved through the relief valve, which also has a predetermined set pressure. Once the overpressure condition is corrected, the pressure relief valve will reseat to prevent further discharge of fugitive emissions into the atmosphere.
Features:
Economical - the rising price of refrigerant makes this economical unit very cost effective.
Flexible - easily adapted to the retrofit of existing installations.
Safe - the full internal relief valve is tamper proof.
Compact - completely self-contained, lightweight unit makes installation easy.
Flow Certified - ASME National Board Certified.
Construction Materials
Model MBF valve parts are constructed from nickel-plated carbon steel and stainless steel, providing excellent corrosion resistance for most applications. Full stainless steel construction is also available.
Annual Servicing
For continued safe and reliable operation, the BPS, Inc. Model MBF pressure relief valve should be serviced annually. The valve should be removed from service, cleaned, visually inspected for damage, and pressure tested. If leakage is detected, the O-ring seals should be replaced by following detailed instructions. If further service affecting the set pressure is required, the valve should be returned for factory reconditioning.
Model 4" MBF
ASME Flow Capacities Chart (**Call for other Pressures)

Set Pressure
PSIG

Flow Cap. SCFM @ 20% O.P.
ASME

15#

1606

50#

3668

100#

6614

150#

9560

200#

12506

250#

15452

265#

16336

275#

16925

300#

18398