Time-tested designs, high-grade materials, and serviceability is what you would expect from BPS. ASME and UL certification is our way of assuring you with the quality and reliability you demand.

The durability of BPS valves has been established through drop tests, which determined "essentially zero leakage" from the BPS 3-inch MBF relief valve when tested in accordance with 49 CFR 178.345.10, TTMA RP-81. Flow capacities for BPS Internal Pressure Relief Valves have been confirmed through tests and are certified in accordance with ASME Code Section VIII, UG-136. This certification, issued by the National Board of Boiler and Pressure Vessel Inspectors, gives our users confidence that BPS valves perform within designed tolerances.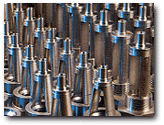 BPS's unique double o-ring seal system provides reliable seating that is easily serviced. Using standard o-rings, qualified technicians can replace the seals without disturbing the pressure setting. These o-rings are widely available in a variety of elastomers from local sources or direct from BPS. The BPS standard valve material is 304 stainless steel. BPS also provides other materials such as 316 Stainless Steel, Hastelloy, Nickel, Inconel, and Monel. Whatever the application, BPS can meet all of your requirements.